Sewage Spill Closes Beaches
Millions of gallons of sewage spilled into the Tijuana River from Mexico. The mayor called it a 'tsunami of sewage,' and the worst sewage spill in over a decade. NBC 7's Alex Presha reports - San Diego 7 News -(Published Monday, Feb. 27, 2017)
The Tijuana River watershed, a 1,735 square mile area straddling the San Diego- Tijuana border region, is a critical natural resource. It provides water to agriculture and industry, as well as the human and animal population of both nations.
The Tijuana River has long been a source of discussion between San Diego and Tijuana. Sediment, polluted storm water, trash, and agricultural waste have been problematic in the region for decades.
In 2015, an agreement was entered into between the US and Mexico to address these issues, and provide for methods of exploring solutions. It is known as Minute 320. This minute falls under the 1944 US-Mexico water treaty, which addresses not only the Tijuana River, but areas of the Colorado and Rio Grande river basins.
The Southern California- Northern Baja region is comprised of high desert and coastal desert climate. Water supply is at a premium, and the shared region has begun a system of desalination plants designed to provide plentiful fresh water pulled from the Pacific Ocean.
Desalination plants are underway in Carlsbad, a city in San Diego County, and Rosarito Beach in Baja.
Environmental Laws Impacted by the Border Wall
According to the Sierra Club, the laws listed below are waived when building border walls. This is based on the REAL ID ACT of 2005, Section 102 states in part:
SEC. 102. WAIVER OF LEGAL REQUIREMENTS NECESSARY FOR IMPROVEMENT OF BARRIERS AT BORDERS; FEDERAL COURT REVIEW.
Section 102(c) of the Illegal Immigration Reform and Immigrant Responsibility Act of 1996 (8 U.S.C. 1103 note) is amended to read as follows:
`(c) Waiver-
`(1) IN GENERAL- Notwithstanding any other provision of law, the Secretary of Homeland Security shall have the authority to waive all legal requirements such Secretary, in such Secretary's sole discretion, determines necessary to ensure expeditious construction of the barriers and roads under this section. Any such decision by the Secretary shall be effective upon being published in the Federal Register.
LAWS WAIVED WHEN BUILDING BORDER WALLS:

National Environmental Policy Act
Endangered Species Act
Clean Water Act
National Historic Preservation Act
Migratory Bird Treaty Act
Clean Air Act
Archeological Resources Protection Act
Safe Drinking Water Act
Noise Control Act
Solid Waste Disposal Act
Comprehensive Environmental Response, Compensation, and Liability Act
Archaeological and Historic Preservation Act
Antiquities Act
Historic Sites, Buildings, and Antiquities Act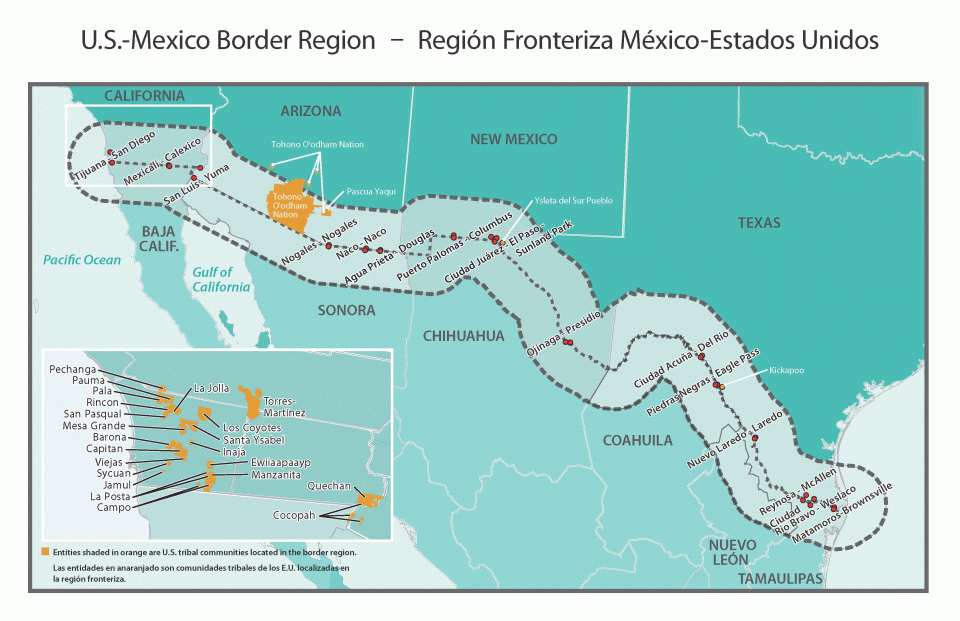 Wild and Scenic Rivers Act
Farmland Protection Policy Act
Coastal Zone Management Act
Wilderness Act
Federal Land Policy Management Act
National Wildlife Refuge System
Administration Act
Fish and Wildlife Act of 1956
Fish and Wildlife Coordination Act
Administrative Procedure Act
Otay Mountain Wilderness Act of 1999
California Desert Protection Act
National Park Service Organic Act
National Park Service General Authorities Act
National Parks and Recreation Act of 1978
Arizona Desert Wilderness Act
Rivers and Harbors Act of 1899
Eagle Protection Act
Native American Graves Protection and Repatriation Act
American Indian Religious Freedom Act
Religious Freedom Restoration Act
National Forest Management Act of 1976
Multiple Use and Sustained Yield Act of 1960
Federal Grants and Cooperative